Your compressor is down. You want it fixed. Fast
Many people don't realize how important compressed air is for their factory, until their compressor breaks down.
Compressor problems can quickly result in hours (if not days) of production downtime and a loss of thousands of dollars per hour.
Even 'small' problems like a water or oil in the air can have tremendous consequences when they contaminate your products or ruin your machines.
Getting Help with your Compressor Problems Can Be Difficult
Not everyone has access to reliable, quick, professional support from a compressor company.
They can take hours, or even days, before visiting you… while you are stressing out over lost production hours, deadlines, angry customers, and things like that.
In other parts of the world, a good service technician is simply not available within a few hundred miles.
Introducing: Air Compressor Troubleshooting Guide
I have created this troubleshooting guide, to help YOU with your air compressor problems.
Let me guide you through troubleshooting the problem, step by step.
And I will prove you that troubleshooting air compressors isn't hard, or expensive! You can do it too!
Use the included easy-to-follow flowcharts to pinpoint the exact cause of the most common air compressor problems.
Troubleshoot your compressor yourself in minutes!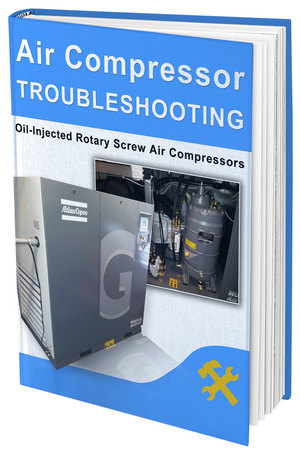 I help maintenance managers to quickly fix their
air compressor problems
Are you a plant manager? Maintenance technician? In control of / responsible for the air compressors in your plant?
How much does it cost your company to lose 2 to 4 hours…or possibly even a whole day of work?
If you call for help, a single service call can quickly cost you $500. And this is in addition to the hours of downtime while waiting for the man to arrive.
(An average compressor service technician will cost you at least $90 per hour…bare minimum. Plus they need time and petrol to drive to your site while valuable work time is being lost.)
In other parts of the world, a service technician is simply not available! You're on your own!
My Air Compressor Troubleshooting Guide is here to help you.
Now you can have this easy-to-use guide, bonus printable flowcharts, all for the cost of significantly less than one service call.
You will have your compressor up and running again in no time!
Main problems covered in
the Troubleshooting Guide:
This is a 146 page information-packed troubleshooting guide for oil-injected rotary screw air compressors.
My guide will show you how to troubleshoot the most common air compressor problems.
The complete workings of the whole air compressor is explained. The oil system, the air system, the control system, and all the parts are explained in depth, with pictures and diagrams.
But if you don't care about that, and just want to fix your compressor ASAP, that's possible too! Just follow the troubleshooting flowcharts.
Why this Troubleshooting Guide?
I saw time and time again how small easy-to-fix compressor problems escalate to thousands of dollars of repair costs and production downtime.
I want to save you from making the same mistakes!
Fact is, most problems were easy to fix – if you just know the basics of air compressor troubleshooting.
That's why I decided to write this troubleshooting guide!
Pictures, Diagrams and Troubleshooting Flowcharts!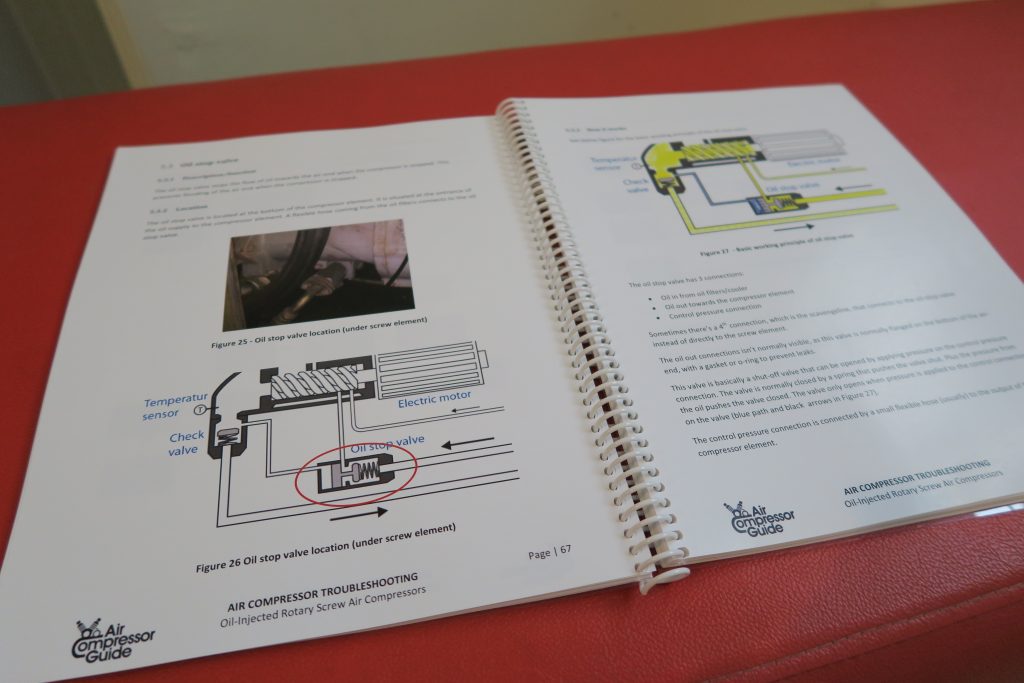 Lots of pictures and diagrams
Because a pictures is worth a thousand words, I have included many pictures, diagrams, tables and technical drawings.
They show you exactly how every part works and what happens inside your compressor.
Troubleshooting flowcharts!
The guide includes troubleshooting flowcharts for every problem and every compressor part.
It will help you to easily pinpoint the exact cause of the problem. Simply follow the flowchart, answer the simple questions and find the cause of the problem.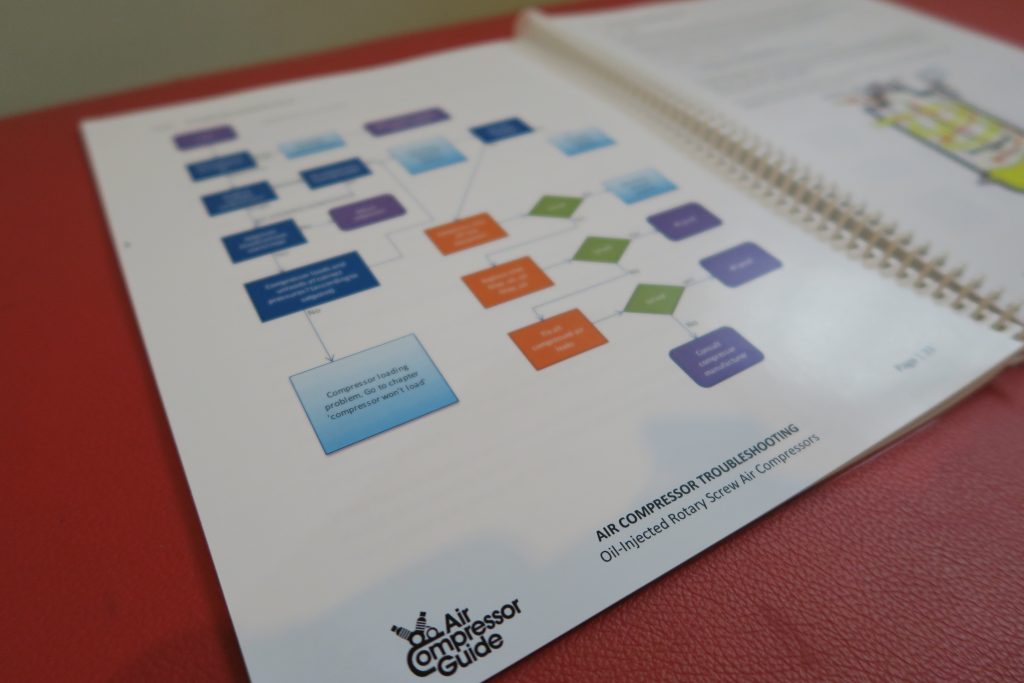 Lifetime Updates and Private Member Forum
The Troubleshooting Guide is now upgraded from a simple PDF to an interactive online guide on our new online courses platform*.
Private members-only forum
Ask your questions in the private members-only forum. I'm in daily to help you with your compressor problems and answer any questions that you might have.
Lifetime updates
The guide will continue to be updated and improved. I will add more common problems, answers to frequently asked questions and bonuses.
And the best thing: you have lifetime access to all future updates and bonuses.
* will be available February 2018 – all current customers will be upgraded for free!
Here's what some happy customers have to say about his guide:
I downloaded it and it's awesome. I have to maintain 103nos of air compressors which includes 73nos of screw compressors (atlascopco, compair & boge brands) in our hospital medical gas systems. So I think this guideline will help me to find and rectify problems easily. Thanks again for this.
I just bought you book (Hard copy and download) on rotary compressors. It is fantastic!!! I did a fast cursory read of the download, and it was great. This is the way all Tech book should be written. It is straight forward, no nonsense with great insight. I have been doing industrial millwright work for over 45 years. Great Job – I signed up for your upcoming work.
I am very happy with your manual. It's great for troubleshooting any type of machine. Your manual helped me figure out what was wrong with a machine that others had given up on.
Just received your book and it is fantastic. I operate 25 diesel powered compressors in twenty countries ranging from 375 to 1100 CFM. Thanks for writing it!
Why You Need This Troubleshooting Guide
Not only will this troubleshooting guide help you solve your compressor problems quickly…
Limited Time Promo - be quick
I don't do these promo's often, and it will never be cheaper than this!
You will have lifetime access to all future updates,
private member forums (I'm in daily to answer your questions!),
extra bonuses, and more.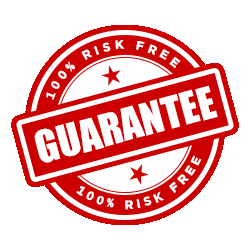 Check it out for yourself. Use the guide to troubleshoot your compressor. And if you feel that this guide is not what you expected, you can use the no-questions asked money-back guarantee.
I will refund your money in full without asking any questions—and with a smile. Just send me an email within 30 days, and I will be happy to refund your money immediately.
Thank you for the in depth analysis of our issue and the easy to follow step. You have a great talent for explaining in easy to follow language...thanks
I didn't have any issues with our compressor... I mainly bought it as a learning guide as I am inexperienced with compressors. I looked over the book and liked the troubleshooting flow charts. I believe I will be able to use them in the future. Overall I thought the guide was good and worth the money.
I purchased a copy of your air compressor trouble shooting book. It is excellent. You have put a lot of home work into this whole program and it is of great benefit. Many thanks
I was desperate enough to try something that will help the factory from being down for long. As a result of buying the guide, we got access to you (Cas), which basically is what helped us troubleshoot the problem. We tried what you told us in an email and it worked. Thank you! For individuals, it may be a little expensive, for us it is worth it.
I am the owner of a compressor company as well and I want to COMPLIMENT YOU ON YOUR PUBLICATIONS. It helped me out on many occasions as I can not always be with my NEW YOUNG Technicians all the time and hold their hands and when they have to "FLY SOLO" . Now they have the freedom of using your Guide as learning course and making mistakes and FIXING by yourself is the only way to build confidence and gain knowledge and it also ensures NO COME BACKS due to inexperienced technicians as they have the tools to do the JOB.
Frequently Asked Questions
I have a ... *insert make and model here* - Will this guide work for my compressor?
Yes! This guide works for all oil-injected rotary screw air compressors: Atlas Copco, Ingersoll Rand, Kaeser, Compair, Chicago Pneumatic, Sullair, Quincy and many more!
All oil-injected rotary screw compressors have the same working principle, same parts and same problems. Yes, some details will vary but in general – they are all alike.
For this reason, my guide works for ALL oil-injected rotary screw air compressor.
I have two left hands - I'm really not sure I can do this?
While some parctical engineering experience is always helpful – you don't need any special knowledge or experience with air compressors to use this guide.
The guide explains all in details and includes troubleshooting flowcharts for every part and every problem. It's almost like I'm there holding your hand.
Will this work for my diesel- / portable air compressor?
In short: yes.
The compressor system of a diesel- /portable air compressor is 95% the same as for a stationary electric compressor. You will be able to use most of the information in this guide to fix your problem.
I want to use your guide to learn about rotary screw air compressors in general. Is it suitable for that?
Yes, very much.
Although the guide is primarily setup for troubleshooting help, it will definitely give you a full understanding of how oil-injected rotary screw compressors work.
I know at least one company who use it as training guide for their new technicians. And a few companies (compressor sales/maintenance) ordered multiple copies for their technicians.
Limited Time Promo - be quick
I don't do these promo's often, and it will never be cheaper than this!
You will have lifetime access to all future updates,
private member forums (I'm in daily to answer your questions!),
extra bonuses, and more.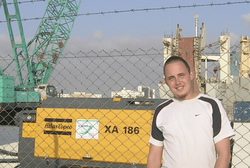 Hi, my name is Cas and I am the owner of this website and author of the Air Compressor Troubleshooting Guide.
My whole professional life I have worked with air compressors. I receive (and answer) troubleshooting questions daily, from all over the world, so I know what the common problems are out there.
I wrote this troubleshooting guide to help people like YOU troubleshoot their compressor quickly – to save hours of downtime and frustration (not to mention money!) on often easy-to-fix problems.